There are so many options of zero turn mowers in the market to choose from that narrowing down the options and choosing the best one becomes quite time-consuming and tedious. But don't worry we have saved a lot of your time as we have searched and narrowed down some of the best zero turn lawn mowers for you to help you pick the best one for you easily.
All the mowers we have described below are extremely powerful and sturdy and get your mowing work done much faster than you think. These lawn mowers are very innovative and show a lot of ingenuity when it comes to performing the most tedious tasks in a reasonable and stipulated amount of time. If your work is not much then you can go for string trimmers or these lawn mowers in case you have a small yard. Working with these lawn mowers you will almost feel like you are doing no work at all. If you are looking for something that is even more simpler than this, then do check the reel mowers.
Given below are some of the top and most effective zero turn lawn mowers for your lawns.
List of Best Zero Turn Lawn Mowers of 2021
Cub Cadet Ultima ZT1 50 inch 23 HP Kawasaki FR series Zero Turn Lawn Mower
Beast 62ZBBM20 25 HP Briggs & Stratton Zero Turn Lawn Mower
Toro 75750 23 HP 50 inch Zero Turn Lawn Mower
Ryobi RY48ZTR100 42 Inch Electric Riding Zero Turn Lawn Mower
Troy-Bilt Zero Mustang 54 inch 25HP Zero Turn Mower
John Deere Z345M 42 in. 22 HP Gas Dual Hydrostatic Zero-Turn Riding Mower
---
Short on time ? Here are the best picks straight away !
---
Detailed Review of the following Lawn Mowers:
Cub Cadet Ultima ZT1 50 inch 23 HP Kawasaki FR series Zero Turn Lawn Mower
The Ultima ZT1 50 inch Fabricated Deck 23 HP Kawasaki FR Series V-Twin Gas Engine Zero Turn Mower with Lap Bar Control by Cub Cadet is an amazing mower which steps up your ultimate all-around mowing experience.
This mower has a twin-cylinder OHV engine of 23 HP 726cc Kawasaki FR691V series and is the perfect commercial-grade power plant to fulfil the toughest demands of your lawns and yards. The mower consists of a dual hydro-gear EZT-2200 and dual hydrostatic rear-wheel transmission which provides it with a faster movement and effortless zero turn controlled ground speed of 7.5 Mph going forward and 3.5 Mph while reversing. This helps in giving the lawn a professional quality finish.
It has a heavy duty 11 gauge fabricated triple blade (which is high lifting) cutting deck of 50 inches which has reinforced leading edges, an independently tested fine AeroForce cutting system and comes with a deck wash. This helps it deliver the best-in-class cut and finer clippings having fewer clumps and stragglers thus, giving an increased evenness of cut. It is very well protected by the Cub Cadet triple guard corrosion defense system with e-coat.
Pros
They're Cordless
Lightweight
Cons
Hills & Obstructions in the Lawn Will Present Challenge
Beast 62ZBBM20 25 HP Briggs & Stratton Zero Turn Lawn Mower
The Beast 62ZBBM20 62 inch 25 HP Gas powered by Briggs and Stratton Pro engine zero turn commercial mower comes with a free rollbar and headlight and is a perfect pick for those professionals who are in search of a dependable commercial grade equipment.
This 25 HP commercial pro-series engine by Briggs and Stratton is very powerful and helps you cut more grass in less time. You can very easily level up to the big leagues with this commercial zero turn mower. It has a 62 inch W cut that helps to accomplish more in less time. It also consists of halogen headlights for extending work time.
The hydraulic system of the mower was designed for larger commercial applications and needs. There is a mechanical gear reduction which routes the power to a 1.2 inch (30 mm) axle. The mower's system also has a patented bypass which allows free-wheeling and there is also an intermediate belt which can be used for limiting excessive torque to the wheels.
The machine has a dual hydrostatic drive system providing you a great speed and maneuverability and reducing the cutting time at speeds of up to 12 Mph. There are even spindle brakes and patented soft start clutch providing a longer belt life as well as lower maintenance.
Pros
Less Maintenance
Cordless Mowers are Quiet
Cons
You Can't Mow All Grass Types
Toro 75750 23 HP 50 inch Zero Turn Lawn Mower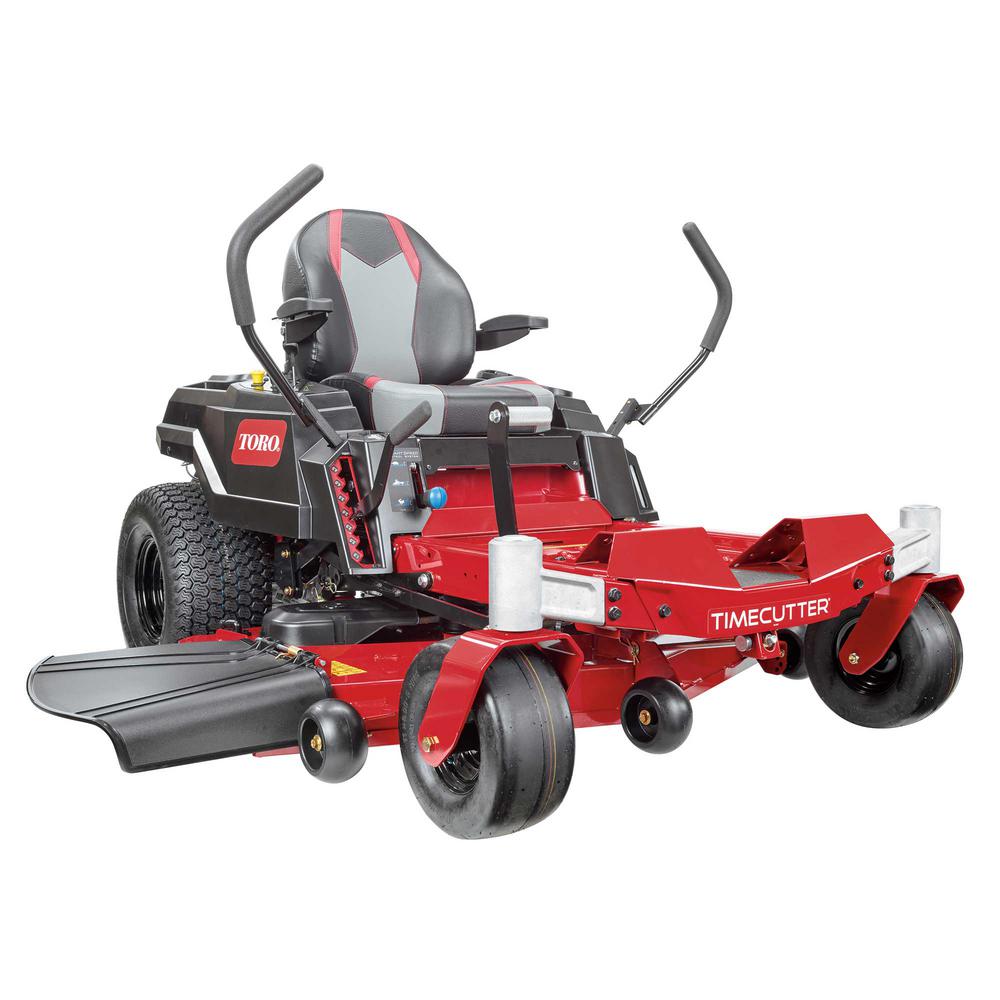 The Toro 750750 50 inch 23 HP TimeCutter IronForged Deck Kawasaki V-Twin Gas Dual Hydrostatic Zero Turn Riding Mower is PRO DNA engineered as tough as nails having a built like a beast and an excellent IronForged cutting system that never fails despite many years of hard knocks. This lawn mower is built to fight dirty, giving you professional performance along with exceptional quality and durability.
This mower is equipped with a 10 gauge steel deck along with a reinforced leading edge across it, 6 inch spindles and Kevlar belts. This machine is designed to last and so requires a bit of initial investment from your side and so the TimeCutters come with a Toro IronForged deck ensuring top class performance and reliability.
This lawn mower is the right pick for you and is best if you have yards with obstacles up to 4 acres. This machine makes your work easy and quick by cutting your mowing time up to 50 %.with the zero turn feature and works so smooth around the obstacles making your lawn look neat and gorgeous.
Using this mower you get the best cut as you have Toro's innovation which is of more than 100 yrs at your fingertips. This mower has commercial grade features including a durable deck design and a single piece lever controlling your cut's height thus, making you feel like a pro in mowing.
This machine is easy to handle as it has Toro's smart speed technology, you can pick your pace and take complete control of your mowing speed. It has ground seed ranging from 7 Mph in the mowing mode, 4 Mph in the trimming mode and 5.5 Mph in the towing mode.
Pros
Ease of Storage
They're Eco-Friendly & Efficient
Affordable
Ryobi RY48ZTR100 42 Inch Electric Riding Zero Turn Lawn Mower
The Ryobi RY48ZTR100 42 inches 100 Ah Battery Electric Riding Zero Turn Mower is a fully electric mower which is clean, quiet, powerful and has zero emissions. This mower operates completely on battery and its single charge offers up to 3 acres of mowing on the 100 Ah model and up to 2.25 acres of mowing on the 75 Ah model.
This is a remarkable mower which provides the power of gas without any belts, fumes, spark plugs or filters. This is the future of mowing where you get to experience the performance of clean power. Having a reinforced 12 gauge steel deck and rugged frame that can withstand the abuse of rigorous mowing jobs, this mower works amazingly well.
As far as the structure of the machine is concerned, this lawn mower is combined with aggressive zero turn technology and has 4 high powered brushless motors, 12 position manual deck adjustments for providing a clean cut to your lawn and a heavy duty steel deck of 42 inches equipped with two precision cut steel blades.
It has a well adjustable cutting height varying between 1.5 inches to 4.5 inches, a replacement battery which is Leoch model LPC12-100,a towing hitch and tow assembly hardware and a rear access charging port which makes charging the mower extremely easy once you are done with your work.
Pros
More Maneuverability.
Shorter Mowing Time
More Comfort
Troy-Bilt Zero Mustang 54 inch 25HP Zero Turn Mower
The Troy-Bilt Mustang 54 inch Zero Turn Mower has a 726cc 25 HP Briggs and Stratton Pro twin-cylinder engine with a dual hydrostatic transmission for providing a true zero turn performance for quicker mow times as well as enhanced maneuverability.
This machine was built in 1937 in America. This Briggs and Stratton Professional Series engine provides you with premium performance, reliability and power and is perfect for large and flat to slightly hilly yards reducing your mowing time with its zero turn capability.
This machine has a full length, heavy duty and fully welded tubular solid steel frame of about 2 inches which absorbs the impact adding maximum stability and durability over rough terrain. You have a really comfortable ride with foam grip lap bars and a high back seat and experience reduced vibrations. The lap bars here have an integrated parking brake which helps in stopping the mower very quickly and safely when they are pushed apart.
As far as the performance power is concerned, the engine has a full pressure lubrication ensuring you a smooth delivery of oil and there is also the forged steel crankshaft which helps you with strength and durability.
This mower has an easy cutting blade engagement where the cutting blades are conveniently located with a dash mounted knob. Along with this it has a standard garden hose attached to the integrated deck wash port which helps in cleaning the grass clippings from the underside very quickly. There are also attachments available for the same (sold separately) and you can keep the grass clippings under control with the mulch kit and the rear bagger attachments.
Pros
High Cut Quality
Better Mulching
Less Trimming
John Deere Z345M 42 in. 22 HP Gas Dual Hydrostatic Zero-Turn Riding Mower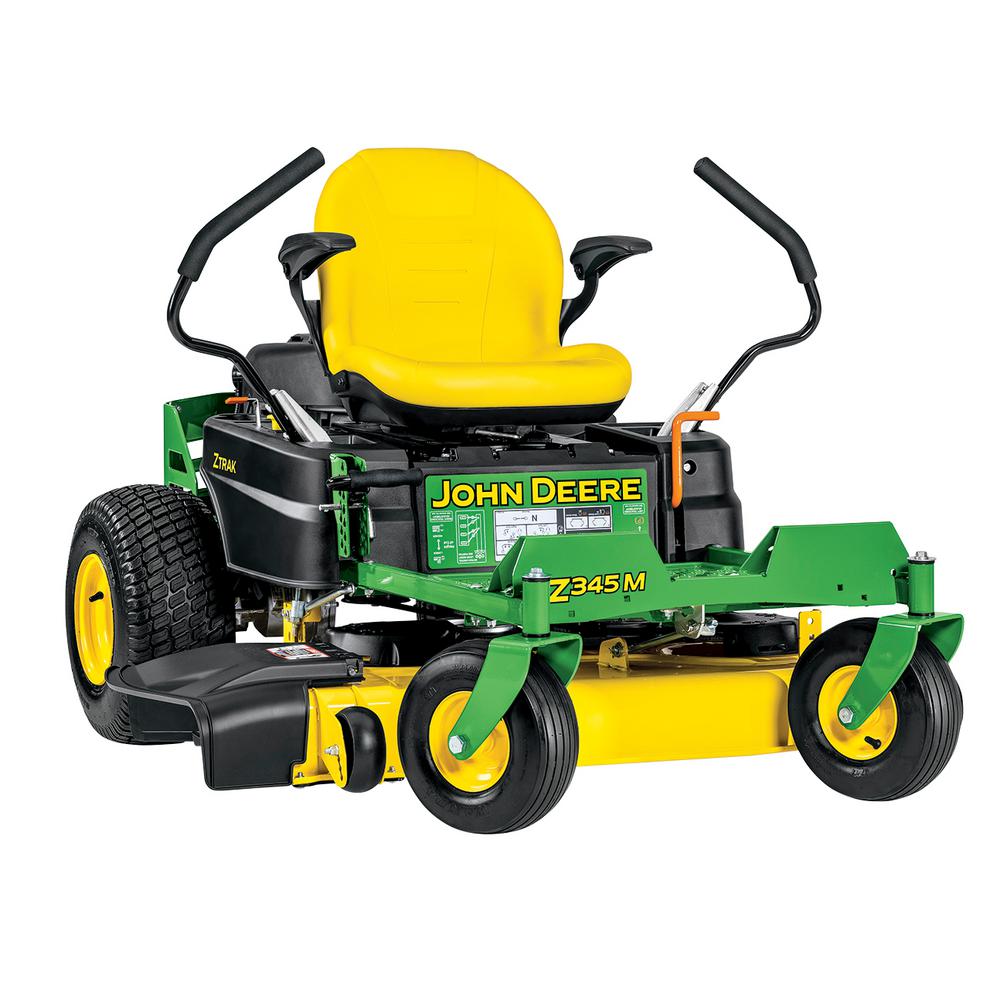 All John Deere Ztrak Residential Zero-Turn Radius Mowers offer unmatched quality, performance and comfort. They are designed for use by residential customers looking for an efficient mowing machine with exceptional maneuverability and trimming capability. The Z345M has a 22 HP V-Twin John Deere branded engine for smooth, powerful performance and is equipped with a 42-in. (107-cm) Accel Deep Mower Deck that delivers improved cut quality at higher mowing speeds. It can side discharge, mulch, or with an optional Rear Bagger, collect grass and leaves.
For online purchases requesting home delivery, John Deere offers a white glove delivery service – at delivery the customer will be taught how to operate and maintain the mower
22 HP V-twin John Deere branded engine delivers powerful performance
ReadyStart system provides choke-free, car-like starts
Not how fast you mow, its how well you mow fast, mow well fast with the 42 in. accel deep deck, delivering improved cut quality and grass processing at higher mowing speeds, designed to provide greater mowing capacity and improved mulching capability
Dual EZT transmissions and large 18 in. drive tires enable mowing speeds up to 7 MPH
ZTrak mowers are designed with a heavy-duty formed and welded steel frame for strength and reliability
Pros
Less Weed Eating work
Shorter Mowing Time
WHAT ARE ZERO TURN LAWN MOWERS ?
Having a vast or medium sized yard and taking good care of it requires a lot of time and effort as you have to keep a regular check that the grass is properly mowed and neatly trimmed. To help you in maintaining your lawn effectively and to save your time, there are zero turn lawn mowers.
Zero turn mowers are untouched when it comes to power, speed and maneuverability and are perfect for keeping large swaths of grass neat and even. These mowers have very fast speeds which are up to 7 mph and can pivot 180 degrees leaving no area of uncut grass. Also, they steer the rear wheels with lap bars and cut very closely around the hindrances without even compelling you to get the weed whacker out to touch up afterward.
Zero turn mowers can be an expensive upgrade when you are switching from a lawn tractor or a rear-engine riding machine but it is totally worth the money and is perfect for you especially if you have large lawns and are low on time.
HOW DOES THE ZERO TURN MOWER WORK ?
The zero turn mowers have similar parts and components as that of a traditional riding mower. The difference lies in its controls and their working like here you use and operate the mower using two levers which are on each side of the seat instead of using a steering wheel. You can go forward or backward in reverse by pushing the two levers. If you pull one lever in the forward direction, you will be able to turn in a circle without a turning radius. This lawn mowing machine turns on a dime and reduces the turning circle to zero and is undoubtedly ideal for getting into the tighter parts of your lawn. Not only these mowers are great for your residential yards and spaces but also work well for mowing sports fields and enables precision cutting of football fields and soccer pitches thus, giving a characteristic look of cross-hatching on the grass.
Conclusion
I hope you were able to figure out the best zero turn lawn mower for you ! Thanks for reading.
Hi, my name is Jim. I believe that everyone should learn the art of Lawn Mowing and ways to do it correctly and easily. People often underestimate the fact that this is a skill and you actually have to pay for it. I believe that you can easily save up hundreds of dollars just by learning to Mow Yourself and get a good Lawn Mower.